Lead Service Line Inventory and Replacement Information
In July 2021, Governor Phil Murphy signed into law P.L.2021, Ch. 183, which requires community water systems in New Jersey to identify all lead service lines, provide public notification regarding the presence of all lead service lines, and replace all lead service lines by 2031. The law includes a requirement for community water systems to notify residents who have lead service lines.
A service line is where a portion of a pipe that connects the public water main to your home. The part up to the property line is usually a system-owned service line and may have been replaced by the water utility. The rest of the service line from the property line to your home is considered private property and the homeowner's responsibility.
These service lines can be classified as one of the following:
Lead: a portion of the pipe that is made of lead, which connects the water main to building inlet.
Non-Lead: the service line is determined not to be lead or GRR through an evidence-based record, method, or technique.
Galvanized Requiring replacement (GRR): a galvanized service line that is or ever was downstream of an LSL or is currently downstream of an unknown service line.
Unknown: the service line material is not known to lead, GRR, or non-lead, such as where there is no documented evidence supporting material classification.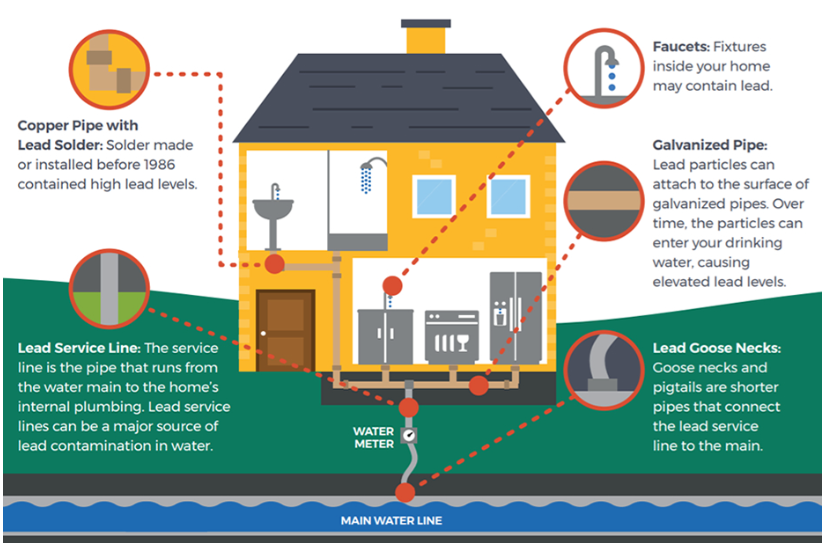 Why lead is a problem and how it can enter your drinking water:
Lead can enter by leaching from the pipes aka your service line and contaminate your water. Lead exposure has a multitude of health concerns for people of all ages, especially with pregnant people, infants and young children. Lead can enter your drinking water through the source of where your water is coming from as well as from other plumbing materials and faucets. Usually, older homes are more likely to have lead LSLs and interior plumbing as well as homes with water that has high acidity or low mineral content can corrode pipes and faucets.
Here are some more helpful links to understand about lead service line replacement:
EPA's Quick Check for Lead
NPR's guide to finding the lead pipes in your home.
LSLR Collaborative's article Introduction to Lead and LSLR
More information on the impact of lead in drinking water can be found on the NJ DEP website.
Infografía: Plomo en el agua potable | US EPA
COMING SOON:  KEANSBURG INTERACTIVE INVENTORY AND REPLACEMENT MAP