ARMY CORP Raritan Bay Storm Risk Public Outreach Meetings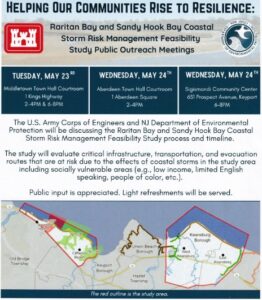 The Army Corps of Engineers has some plans for the Bayshore with regard to storms, sea level rise, erosion etc. It is unclear at this juncture exactly what those plans are, but Cliffwood Beach and Keansburg are in their crosshairs. Already they are doing work on Union Beach.
If you are interested in learning more and giving input, please attend one or more of the meetings shown on the flyer below.
1) Tuesday May 23, 2-4 pm and 6-8 pm, Middletown Town Hall Courtroom, 1 Kings Highway, Middletown, NJ
2) Wednesday May 24, 2-4 pm, Aberdeen Town Hall Courtroom, 1 Aberdeen Square, Aberdeen, NJ
3) Wednesday May 24, 6-8 pm, Sigismondi Community Center, 651 Prospect Avenue, Keyport (actually Cliffwood Beach)