VIRTUAL MEETINGS – Raritan Bay Feasibilty Study (UPDATED with access information)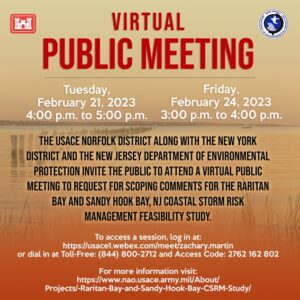 Public meeting invitation and request for scoping comments for the Raritan Bay and Sandy Hook Bay, NJ Coastal Storm Risk Management Feasibility Study
The U.S. Army Corps of Engineers (USACE) and the New Jersey Department of Environmental Protection (NJDEP) announce the initiation of the Raritan Bay and Sandy Hook Bay, NJ Coastal Storm Risk Management (CSRM) Feasibility Study and invite the public to attend a virtual public scoping meeting on Tuesday, 21 February 2023, from 4:00 to 5:00 p.m. and Friday, 24 February 2023, from 3:00 p.m. to 4:00 p.m.
To access a session, log in at https://usace1.webex.com/meet/zachary.martin or dial in at Toll-Free: (844) 800-2712 and Access Code: 2762 162 802.
The format of the meeting will be an informal open-house, where the public can attend at any time during the virtual hours.  We also anticipate hosting in-person open house NEPA scoping meeting(s) in March/April 2023 which we invite you and the public to attend; specific date(s) and location(s) are to be decided but we will provide this meeting information as soon as possible.
General information on the study will be provided and staff from the USACE and NJDEP will be available to answer questions.  The study will focus on measures including, but not limited to, beach renourishment, dune and beachfill profile changes, potential structural and non-structural measures to reduce risk of damages from coastal storm events, including hurricanes and nor'easters, and modifications to the existing project to provide improved erosion control and storm damage prevention in the project area.
The purpose of the meetings is to provide the public an opportunity to learn more about the study and to solicit the public's help in identifying issues, alternatives, and potentially significant impacts to be considered in the analysis.  The USACE plans to prepare a National Environmental Policy Act document that will assess the impacts of the proposed project.
The project website: https://www.nao.usace.army.mil/About/Projects/-Raritan-Bay-and-Sandy-Hook-Bay-CSRM-Study/ provides additional information about the project and current planning efforts.
The public is invited to submit comments during the meeting and/or submit comments electronically at:  .  Written comments can be sent to David M. Schulte, USACE Norfolk District, Fort Norfolk, 803 Front St., Norfolk, VA 23510.